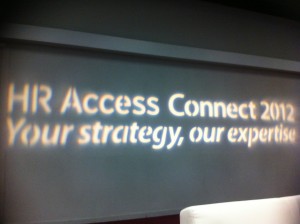 HR Access Solutions organisait le 27/09/2011 l'évènement HR Access Connect 2012 auquel j'ai eu le plaisir de participer.
700 des 2400 clients (entreprises et organisations de grande taille et répartis dans 54 pays) de HR Access étaient inscrits à cet évènement.
Ce sont finalement 500 personnes qui se sont rassemblées à l'espace Grande Arche de la Défense pour découvrir les stands des partenaires (actuellement au nombre de 30) de HR Access, assister à la conférence plénière, aux ateliers, au dernier spectacle de l'humoriste Nicolas Canteloup (un extrait de l'introduction dans la vidéo ci-après) et enfin participer au cocktail de clôture.
Au total ce furent 8 conférences qui ont réuni des experts
HR Access
, leurs
partenaires
et leurs
clients
, ainsi que des
professionnels du secteur RH
. J'ai apprécié qu'elles soient organisées sous forme de sessions courtes tout en alternant démonstrations de cas concrets et témoignages.
La conférence plénière dédiée au thème « l'innovation dans l'entreprise » a été animée par Philippe Bloch (conférencier et chroniqueur sur BFM et BFM TV).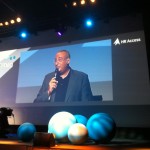 Franck Boutboul (Directeur Général EMEA de HR Access) a affirmé "Avec 40 ans d'existence, HR Access a tenu compte des changements sociaux-culturels actuels pour proposer une solution adaptée aux nouveaux enjeux des DRH dont HR Access souhaite rester le partenaire privilégié ".
J'ai trouvé excellente l'intervention de Luc de Brabandère (Philosophe d'entreprise et Directeur Associé au Boston Consulting Group). Il a notamment expliqué aux professionnels RH rassemblés dans la salle, comment l'innovation (y compris celle en matière de ressources humaines), implique nécessairement le mécanisme "out of the box". Avec humour, charisme et illustrations, il a développé l'idée d'une créativité induite par la remise en cause radicale de nos représentations et modes de pensée actuels.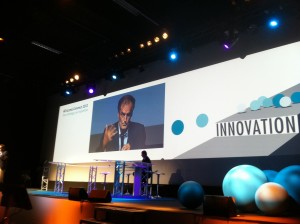 Au terme d'un clip rétrospectif des différentes solutions éditées par HR Access depuis 40ans, les toutes dernières fonctionnalités ont fait l'objet d'une démonstration.
Conçues pour être adaptées aux nouveaux enjeux et besoins des entreprises, elles ont principalement trait à :
L'application Smartphone : une nouvelle expérience de la gestion RH en situation de mobilité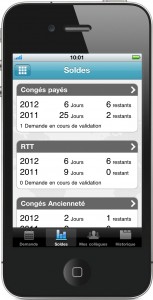 En 2012 sont prévues 217 millions de ventes de terminaux mobiles en Europe de l'Ouest et 212 millions en Amérique du Nord, dont un tiers destiné à un usage professionnel. Cette nouvelle consommation des technologies offre de nombreuses opportunités aux entreprises. Dans cette perspective, HR Access s'apprête à proposer ses solutions mobiles pour smartphones : Gestion des congés (qui a fait l'objet d'une démonstration en séance), management des équipes, consultation des bulletins de paie, etc.
Objectifs : faciliter la gestion des RH en permettant aux employés et aux managers de consulter et de gérer leurs données RH où qu'ils soient.
La business intelligence
Raouf Mhenni (Head of Marketing and Product Strategy) a effectué une démonstration du nouveau module de reporting RH analytique dont la vocation est de rendre parfaitement autonome le DRH pour ce qui concerne la consultation, l'extraction et la diffusion des "bonnes données RH qui permettent de prendre les bonnes décisions au bon moment".
La dématérialisation des documents RH & le « coffre-fort numérique » : une démarche innovante et éco-responsable
La fonction RH est aujourd'hui celle qui consomme la plus grande quantité de papier au sein de l'entreprise. De la phase de recrutement à la gestion des bulletins de paie, chaque mission RH génère de multiples documents. HR Access propose aujourd'hui deux offres de services complémentaires qui permettent aux organisations de limiter leur impact environnemental et de réduire le recours au format papier.
Le « coffre-fort » numérique du Collaborateur : il regroupe l'ensemble des documents RH à remettre aux salariés, et en particulier les Bulletins de Paie.
Le « coffre-fort » numérique Employeur : il centralise l'ensemble des documents à conserver et à consulter par l'ensemble des acteurs de la Direction Ressources Humaines.
Pour en savoir plus sur l'évènement : #HRA2012 sur Twitter
Voir tous les billets sur ce blog contenant le mot clé "HR Access"
——————————————-
Pour me contacter :
caroleblancot@yahoo.fr – 06.50.26.65.17
Vos commentaires ou questions sont bienvenues.
Pour recevoir les prochains articles de ce blog, entrez votre adresse mail ci-dessous :
Delivered by FeedBurner